My Vermeer page
Where some neat stuff will be added now and then . . .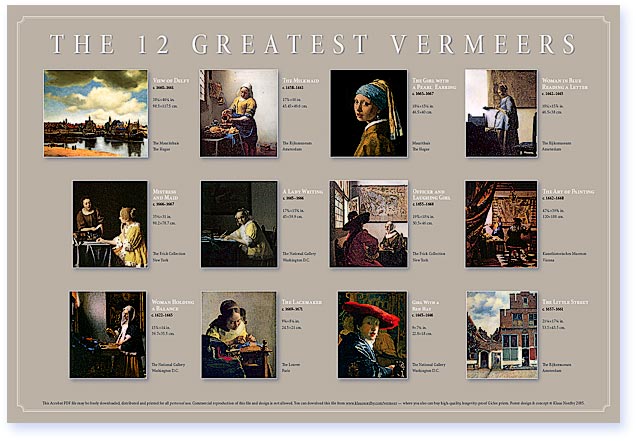 New & Improved Acrobatics
My PDF file is in Acrobat 7 format (PDF 1.6) — to "force" people to upgrade to the latest version (which is smaller and faster and better than previous versions). So if you don't have the latest version, then download the free Adobe Reader 7.0 here.
This poster design, featuring my selection of the 12 paintings which I deem Vermeer's greatest, may be freely downloaded, distributed and printed for all personal use. You may preview a larger JPEG version here (180 kb, 1226x836 pixels), which you may use as a desktop image, if you like.
To view or print your own copy of this poster, please download the PDF here (1,280 Kb).
Commercial reproduction of my design is not allowed. I am considering selling high-quality prints of this poster, using my awesome Epson Stylus Pro 4000 printer. If you are interested, please email me for sizes and pricing (I am still mulling this one over).
And here we have the Good Twin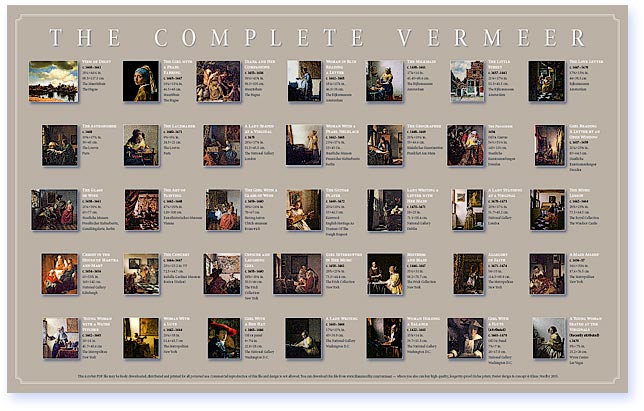 A little anti-Museum rant
I have used the best digital files I have been able to track down, including scanning some myself from books, but none of them are perfect — since the museums are presently sitting tight on their high-quality, high-resolution digital files. This is a highly questionable practice, legally and morally, since all of Vermeer's works are in the public domain and no copyrights can apply to them.
I'd gladly pay a fair price to get first-rate digital files from the museums, of course — but these non-commercial, more or less tax-supported institutions won't hear of that. They're sitting tight on their non-property: the images. The physical paintings are of course the property of the museums, but not the images — they are in the public domain. And I believe it is contrary to the spirit of the copyright laws for musums to jealously hoard "their" images — since they don't own them, and since the whole purpose of public museums is to act as caretakers and promoters of the art in their collections.
I wish someone would make a principled test case out of this — if I'd had the money and resources, I sure would.
This poster features all 35 paintings which the scholars now mostly agree are authentic Vermeers (though attribution of the two images in the lower right corner are still somewhat controversial).
The paintings are grouped according to museum, city and country, so you can easily see which paintings are viewable on a museum trip.
You may preview a larger JPEG version here (205 kb, 1232x776 pixels) and download the PDF here (1,602 Kb).
The same rules apply for this poster as for the one above: personal use allowed, commercial use not.