My latest experiment in living on earth:
Klaus "Easy Comfy Rider" Nordby hits the rrrrrrrrrrrrrroad!
Note to all Korrespondents
My net connection may be somewhat irregular when I'm touring the UK. I will use internet cafes and free public wi-fi zones when I find them, and use my cell phone's WAP connection function only when I have to (my Norwegian subscription is horribly expensive to use abroad, but I may hopefully be able to use pre-paid UK calling cards, thus allowing me to call for local rates).
So you are hereby warned that it could be several days between my logon sessions — and hence my ability to quickly reply to emails, which is my only extant virtue, may be impaired.
Update: my American friend Chip Joyce, who's now also UK-based, has tipped me about www.boingo.com, a global connection service which, for only $22 per month, will give me access to currently more than 10,500 wi-fi hotspots in the UK. So I'm now more optimistic about being able to get online "somewhat regularly" (I'm hoping for once a day, but especially when I'm in the Scottish Highlands this may not be possible).
On March 19, in celebration of my 49th birthday on March 17, I finally bought my long-planned-for-and-much-anticipated RV motor home! And today it's official, so here are some photos of my RV ("Recreational Vehicle").
It's a 2001 Dethleff A 5430 Esprit model, with chassis and diesel engine made by Fiat. It's in excellent condition and has gone less than 40,000Km. It has all one needs to be self-sufficient while touring the world: kitchen gas stove & sink, refrigerator/freezer, bathroom/shower/hot water, heating, lights, TV antenna, etc. It cost me 295,00 Norwegian kroner, which is around $50,000. I've finally sold my house in Sweden, which I owned and lived in for around five years, that's how I've financed this — and I therefore no longer need to be tied to living in Scandinavia (which I am, ahem, "less-than fond of").
I've booked a one-way ferry ride from Stavanger (on Norway's south-west coast) to Newcastle (on England's upper east coast) for April 9, and I will spend the rest of April and around half of May traveling in Scotland, England & Wales (and maybe a quick visit to Ireland, time permitting.) I shall photograph, photograph & photograph! And I shall meet a number of friends and explore, explore, explore the UK, which is an area and a culture of which I am very fond.
In June-July I plan on going on a long trip to northern Norway, Sweden & Finland, where I have never been, and in fall-winter I will go down to Italy and Greece, also all-new places to me. North in summer, south in winter, that's my game plan to keep my blood properly chilled — as I very much dislike hot weather and sunny climates.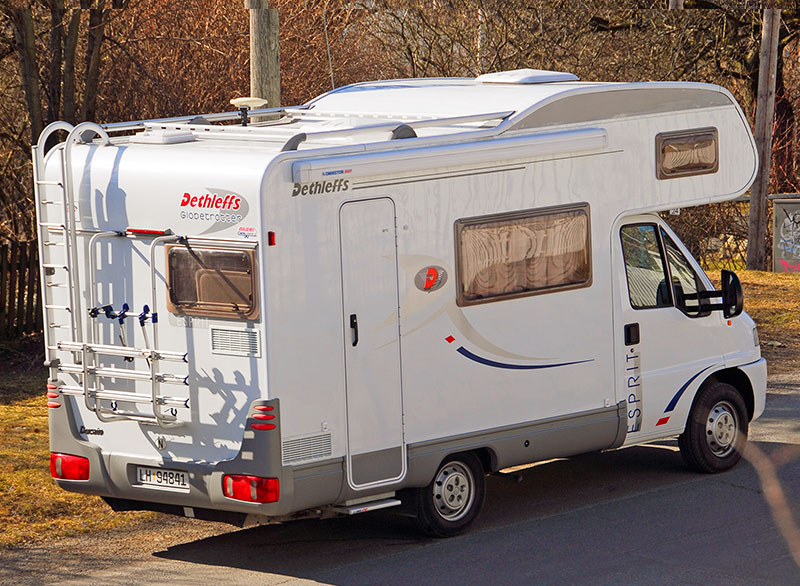 Its length is 5.6 meters, which is quite doable for most regular parking spaces. I don't recall the height. The rack on the back is for safely holding and transporting three bicycles — and yes, I shall bring mine, and bike around in the fascinating Scottish Highlands with my splendid Nikon D200 digital camera, oh joy!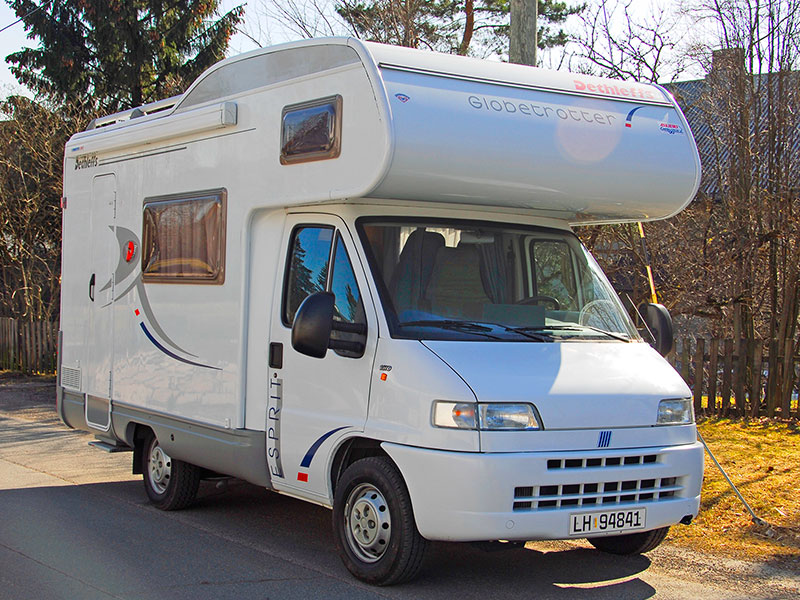 It's not really wider than a normal large sedan, though the large mirrors stick out more.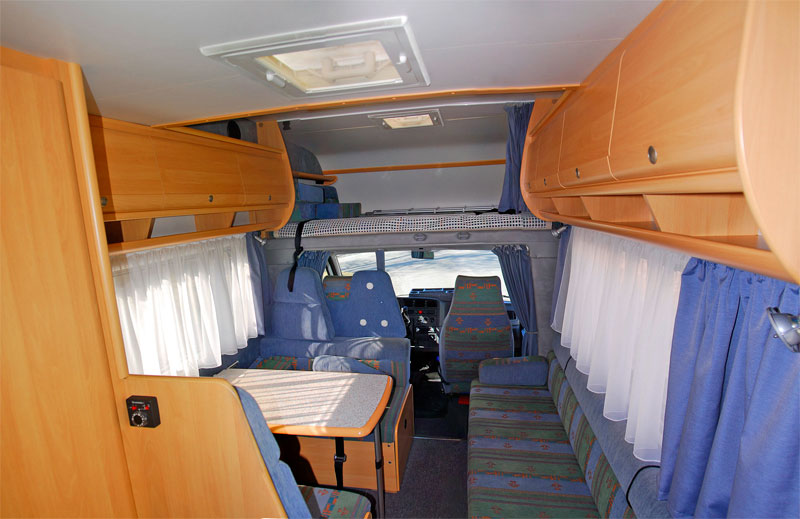 The compartment above the front seats has beds for two — and it's a much larger space than it looks here in this extreme wide-angle shot. The height is enough to put a pillow behind my back and comfortably recline-read. The sofas also make for three beds, so the car can house five folks — it's registered for transporting five, i.e., more is not allowed while driving (for those who care about such legalities). But as long as I have space for me and 2-3 redheads I'm fine.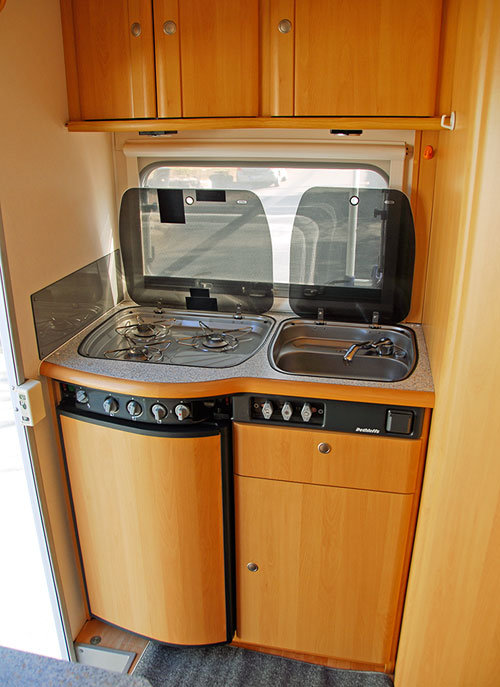 The kitchen has a three-stove gas cooker, and a fridge/freezer which runs on 12 V, 220 V and propane gas. All the windows in the car can be opened, and all have mosquito nets, as do the ceiling windows.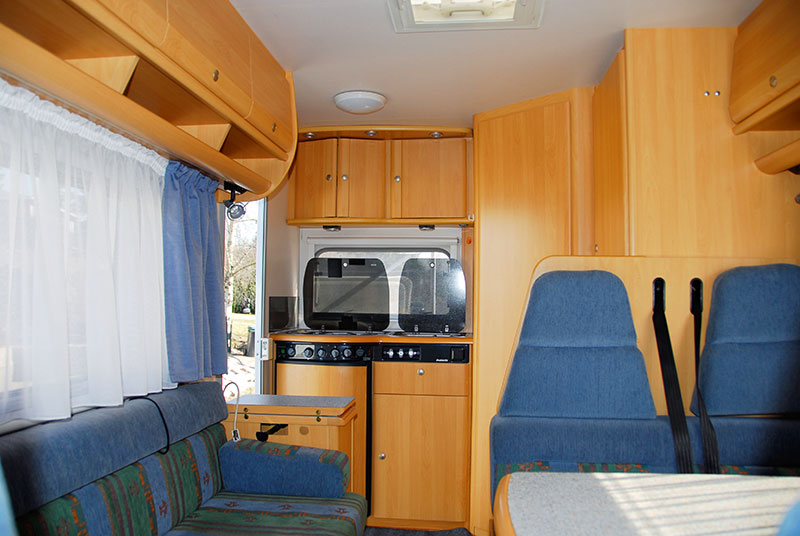 I'm very happy with the existing interior — I don't even have to change the window curtains or other small, potentially-annoying, stuff like that. I have shelf space for probably 100 books, should I want to bring that many along. But most of the books I want to read in the time ahead (various classics) are ebooks on my laptop — i.e., zero size, zero weight. I've bought a 12 V to 220 V transformer, which plugs into the cigarette lighter plug. Via that, I can charge my laptop, cell phone and digital camera. What more does a travelling man need? Certainly not a goddamn TV, even though the little table and that antenna cable is for exactly that.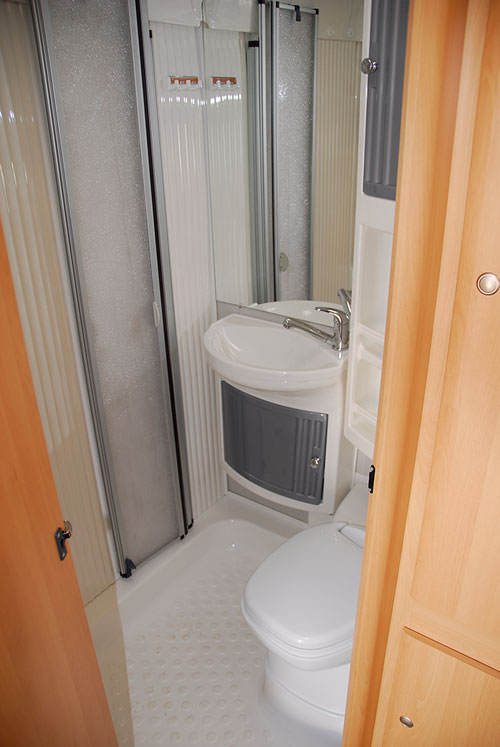 The bathroom is pretty spiffy! To refill the vehicle's water, any garden hose outlet will do for my 60 liter tank. Internally the electric system, for lights and water pump, is 12 V, and that's being charged when driving, just like a regular car battery. It's physically a second battery, so even if I run down that I still have power to start the car. The batteries can also be charged when I'm at a camping van park, as there's an 220 V inlet. The propane gas, for heating and running the fridge and gas stove, is a standard 11 Kg tank, which I can swap/refill at most gasoline/petrol stations in Europe. I have space for two such tanks, though at present the car has one. I might buy a second such tank in the UK (absolutely everything is cheaper there than in Norway, so I'm gonna drive an empty car onto the ferry and then stock up on pans, pots, dishes, cutlery, etc., in the UK as and when I need these things.)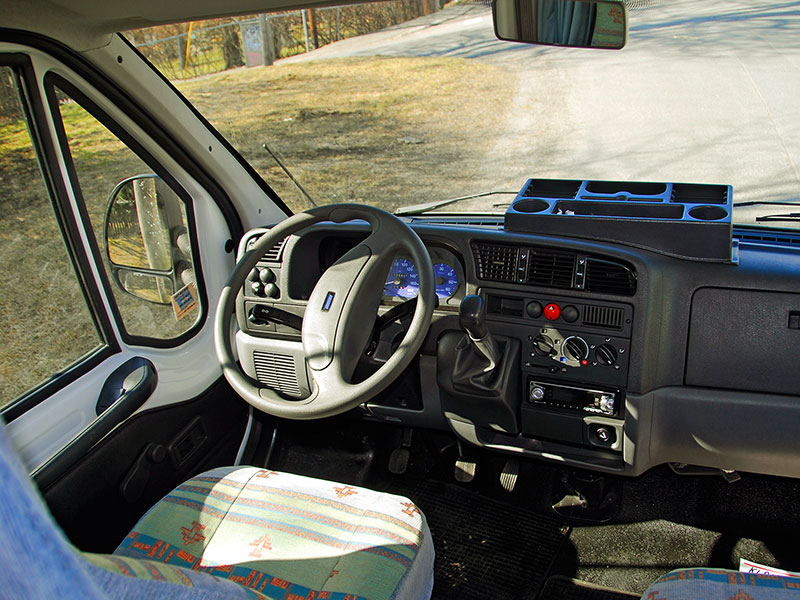 The RV handles well on the roads. My present car is a tiny Mercedes-Benz A-class (which I will sell this spring, as I can't sensibly afford to own two cars), so it's quite a transition for me to drive such a comparatively large vehicle, but it's been less of a strain to handle it in city streets than I had feared. I'm not yet well versed in parking it, I must admit, so I shall soon practice doing that in some almost-empty parking lots around Oslo.